| | |
| --- | --- |
| Posted on February 23, 2015 at 8:40 PM | |
What does the dog's tail really mean?
Many people believe that a dog that is wagging it's tail must be friendly.  This is a common misconception that unfortunately leads to a bite sometimes.
Tail positions have different meanings.  
High tail:  A dog that is carrying a high tail can mean the dog is feeling confident, powerful, secure, or dominant.  This high carriage also allows the dog's scent to be exposed.  
Horizontal to the ground:  Not submissive or dominant.  Might be more curious.  A slow moving tail at this height may mean the dog is feeling insecure.
Between the legs: Submissive or fearful.  This also covers the dog's scent to go unnoticed.
Relaxed:  Tail in natural position for the breed.
Happy:  Usually in relaxed position but moves side to side,  the faster it goes, the more excited the dog is.  A happy dog's tail may even go in a circular pattern.
Alert/Aroused:  Tail higher than normal and stiff.  The dog may be threatening and standing it's ground with a high, stiff tail that is moving rigidly.  This usually gives the appearance of a vibrating tail and is an active threat.
There is also evidence that a tail that is swinging more to the right is a happy dog and a tail that is swinging more to the left is an unhappy dog.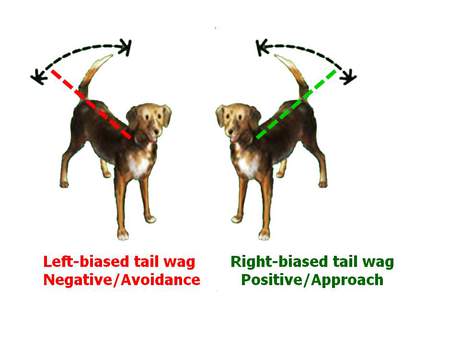 It is very important to read the whole dog.  The dog uses the entire body to portray different meanings.  A tail wag that is accompanied by a stiff body, dilated pupils, and ears pushed forward or backwards is a dog you don't want to mess with.  
 By: Kara Zapko
Image and info found on Psycholoy Today.

Categories: Pet Behavior