| | |
| --- | --- |
| Posted on June 21, 2015 at 10:40 PM | |
Cats and Dogs.
Ever wonder why cant and dogs seem to hate each other?  Cats have a very different way of using body language than dogs do, so much of the trouble comes from miscommunication.  Misreading the other species can lead to an attack on either end.  Here are some examples of how the body language differs.
Tail Height:
For cats, a high tail means they are friendly, relaxed, and confident.  High with fur puffed out can mean alarm and aggression.  The tail being low usually means they are unsure or fearful.
For dogs, a high tail usually means arousal and possible aggression.  If the dog is agitated the tail may flick back and forth vigorously.  Neutral position (differs by breed) means they are relaxed.
Wagging Tail: 
For cats, a wagging tail is seen in an unfriendly encounter and the cat may attack.
     For dogs, a loose wag at medium height is a friendly dog.  (Note, not all tail wags in a dog equal a friendly dog).
Closed Mouth:
For cats, a closed mouth is a relaxed cat.
For dogs, a closed mouth or partially opened mouth can be a relaxed dog, however a tightly closed mouth means the dog is tense.  
Ears:
For cats, ears forward means the cat is confident and if the ears are backwards the cat is uncertain and a greeting is not going well.
For dogs, forward ears may be a dog standing his ground, ears slightly back is a friendly dog, and ears all the way back is a fearful or submissive dog.
Turning to side:
For cats, they may try to look bigger so they are threatening.
For dogs, they are trying to show they are no threat.
Belly Up:
For cats, this is a self defense position with all 4 paws ready and the cat will attack.
For dogs, this is usually a submissive position or the dog just wants a belly rub.
Even though these differences
can cause confusion, there are
still some similarities in body
language.
a)  Ears:  All the way forward if there is excitement or interest and all the way back for fear.
b)  Hackles:  Up when frightened, overstimulated, and ready to react.
c)  Eyes:  Pupil dilation shows fear or aggression. Blinking shows         peaceful greeting.  A direct stare is a threat.
d)   Compacted body: Appear small and tail tucked when scared.
e)  Stiff whiskers:  Stimulated and ready to react.
f)  Panting:  Heavy panting can be from a stressed or frightened animal. When a cat is not communicating, see a vet while panting heavily.
g)  Yawning:  A calming behavior in conflict situations.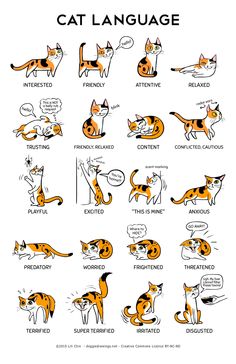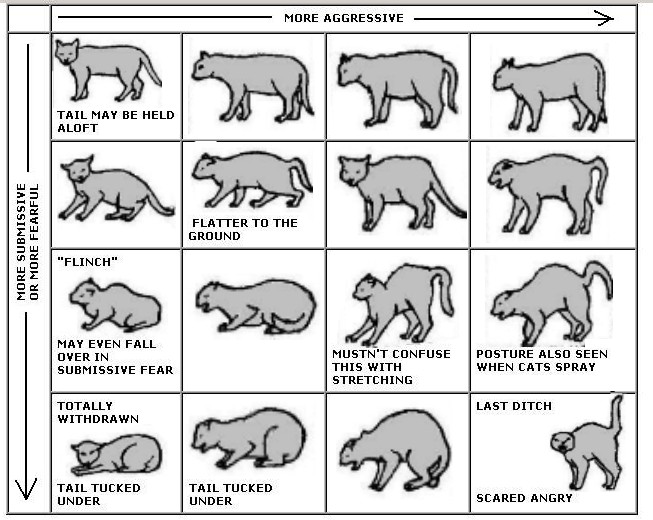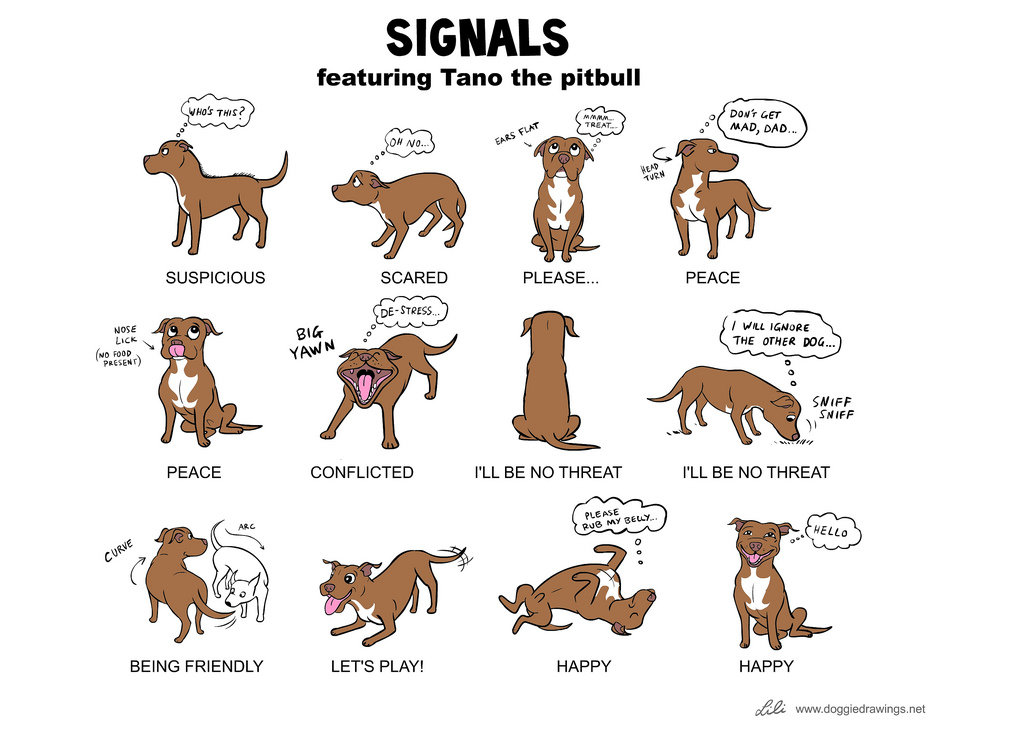 By: Kara Zapko
https://www.pinterest.com/karazapko/" target="_blank">http://https://www.pinterest.com/karazapko/

Found on vetstreet
Categories: Pet Behavior