| | |
| --- | --- |
| Posted on January 26, 2015 at 1:10 PM | |
Most everyone likes to give their dog treats, but here is a list of foods to avoid giving your dog.
 
Avocado: Contains persin that can cause vomitting and diarrhea.
Alcohol: Can cause intoxication, coma, and sometimes death.  They can handle less alcohol than you.
Bones: Can cause obstruction or laceration of the digestive tract.
Chocolate/Coffee: Contains theobromine which can cause vomitting and diarrhea, and be toxic to the heart and nervous system.
Fat trimmings: Can cause pancreatitis.
Fish: Raw salmon can contain a parasite that can be fatal to dogs. Fish fed exclusively or in high amounts can cause thiamin and vitamin B deficiencies.  Can cause loss of appetite, seizures, and death.
Raisens/Grapes/Currants:  For an unknown reason will cause kidney failure. Small amounts can be fatal.
Milk: Dogs are lactose intolerant.
Candy and gum: The sugar and xylitol found in these can cause an over release of insulin and kidney failure.
Corn cob: Causes obstruction.
Appleseeds: The casing is toxic and can release cyanide when ingested.  Must eat large amounts and chew seed up for there to be a problem.
Baby food: Stay away from onion powder.  Baby food is not nutritional enough for a balanced diet.
Hops: Ingredient in beer. Causes panting, increased heart rate, fever, seizures, and death.
Human vitamins:  the iron can damage digestive system lining and bad for kidneys and liver.
Liver: Large amounts of Vitamin A can affect pups muscles and bones. (Small amount is ok)
Macadamia nuts: Inhibits locomotry activities, results in weakness, panting, swollen limbs, tremors, damage digestive, nervous, and muscle systems.
Marijuana: Affect nervous system, heart rate, cause vomitting.
Mushrooms: Some can be fatal.
Onions and Chives: Causes anemia and damages red blood cells.
Persimmons, Peaches, Plums: Seeds/pits can cause obstruction.
Rhubarb/Tomato leaves: Affects digestive, nervous, and urinary systems.
Salt: Dehydration and diarrhea.
Sugar: Dental issues, obesity, and diabetes.
Tobacco: Nicotine can cause digestive and nervous systems to be affected. Increases heart rate, pass out, and sometimes death.
Yeast:  Expands and rises in the tummy.  Mild will cause gas and discomfort.  Too much will cause a rupture in stomach and intestines.
String: While not a food, ingested string can get stuck in the intestines and tear the digestive tract lining.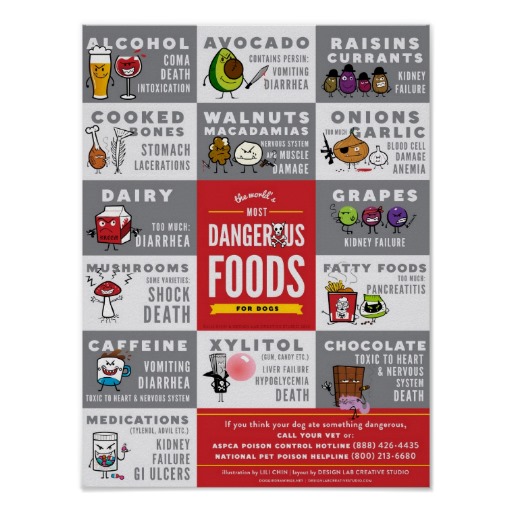 By: Kara Zapko
https://www.pinterest.com/karazapko/" target="_blank">http://https://www.pinterest.com/karazapko/

(Information found on Canine Journal)


Categories: Pet Health